Screen movies with the in-classroom DVD Player.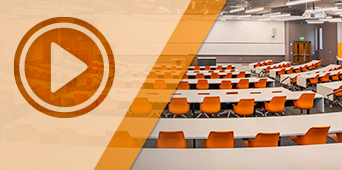 The Blu-ray player is located inside the instructor podium and the basic controls area available on the control panel.
The Blu-ray player can play Blu-rays, standard DVDs and Music CDs coded for Region 1 – Canada, the United States and U.S. territories.
Getting Started
Begin by using the control panel to turn the projection system on. If your classroom has multiple projectors, there will be more than one projection option at the top of the control panel.
To enable the Blu-ray player, select which projector you wish to display the Blu-ray/DVD through and select DVD Player option.
Load your Blu-ray/DVD into the player.
Use the control panel to access the menu controls and select what you'd like to play.
See this example for how the DVD controls will look on your control panel. Notice you can play, stop, pause, rewind, fast-forward and step ahead. You also have a subtitles on/off option. Use the circular menu for moving through the on-screen menu on your DVD.