Most classrooms have a control panel. Some smaller conference-style classrooms may only have HDMI or VGA connectors that will connect you directly into a screen. Usually, the control panel is a touchscreen on the instructor podium next to the large monitor. In some rooms, the Control Panel may be a physical panel mounted to the wall. As classrooms are updated each summer, they will be moved over to a version of the new control panel style.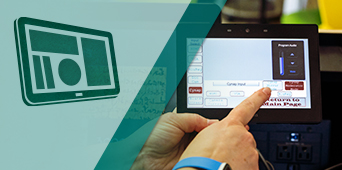 Control Panel Categories
Though Control Panel styles vary through the classrooms, they all work on the same principle. See the options below for general instructions on how to use control panels. For specific instructions on the control panel in your classroom, use the Find Your Classroom search to locate your building and room number.
Other Resources
Basic Setup
Troubleshooting