Some classrooms have a camera installed in the room which can be used for recording your lecture or streaming via Zoom.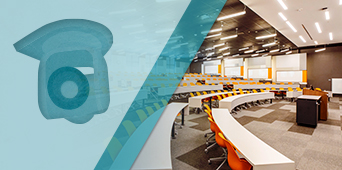 The camera in your classroom can be controlled by the Control Panel in your room. You should see a Camera control button on the panel. On this button, you can pan, tilt, and zoom in with your camera. Cameras may have preset controls that will move them to a set spot and zoom. Try out the controls available to you in your room.
Tip: if you are zoomed in, the pan and tilt will be more pronounced. Zoom out to have more control over the movement of the camera.
Many of these cameras have been set up to work with the Cynap or the Classroom Supplied Computer in your classroom.
Depending on the type of camera in your classroom, you may not see all the controls you have here. If your classroom has a webcam, that will not have camera controls associated with it and may be directly connected to an attached computer in the room.