Some classrooms have a camera installed in the room which can be used for recording your lecture or streaming via Zoom.
Do not rely on the camera to show screens or whiteboards. A person standing in front of a screen will be in focus, but the screen itself will be washed out to viewers. We recommend you connect the document camera so that your in-person and online viewers have the same experience.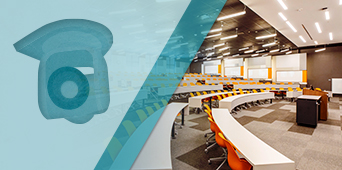 The camera in your classroom can be controlled by the Control Panel in your room. You should see a Camera control button on the panel. This is usually under the Cynap menu. On this button, you can pan, tilt, and zoom in with your camera. In some classrooms, cameras may have preset controls that will move them to a set spot and zoom. Try out the controls available to you in your room.
Tip: if you are zoomed in, the pan and tilt will be more pronounced. Zoom out to have more control over the movement of the camera.
These cameras are set up to use with Zoom or Panopto, which you can access through the WebRTC app on your Cynap.