Many classrooms have a WolfVision Document Camera. Much more than an overhead projector, a document camera has a high-quality camera that enables you to show anything in great detail that you can sit below it.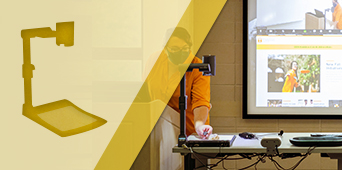 Helpful Links:
Features include:
Freeze – which allows you to freeze the image being displayed on the projector screen. This gives you time to switch out material to something else, while leaving a static image for students to view.
Zoom wheel – you can zoom into an object down to small details. Use this for seeing small structures on 3D objects, details in a painting or sculpture, or anything you would normally ask students to look at closely.
To use the document camera, follow instructions for your Control Panel or choose the Document Camera as a Cynap Input.
---
For ideas on how to use your document camera, check out our video: