If you need immediate assistance in a classroom, call 865-974-9110 or go here to report a problem in a classroom.
Announcements:
One-on-One Classroom Consultation
Did you miss out on the 1-on-1 classroom consultation signs before the semester started? Don't worry! We can still set up a time when your classroom is free to meet you to test out what you need. Contact the OIT HelpDesk at 865-974-9900 or fill out the request form for classroom help.
And don't forget, we do 1-on-1 classroom consultations beginning about 2 weeks before Spring and Fall semesters every year! Look here for an announcement a few weeks before.
Troubleshooting Guides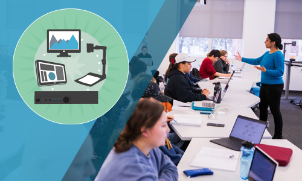 Are you teaching in Art & Architecture 109, AMB Cox Auditorium, Buehler 555 Mossman 102, Physics 415, Strong 101, or Strong B1? These rooms have a new presentation recording system that will let you request to have each lecture automatically recorded by OIT or you can record by hitting one button.
Presentation Recording System in Large Lecture Halls