This page will give updated notes on troubleshooting problems with Windows laptops.
Problem: Shortcut keys to connect to Cynap don't work
Normally, to connect to Cynap, you will use the shortcut keys of Windows K (on Windows 11) or Windows P (on Windows 10) to open up the connect to a wireless display. If these shortcut keys do not work, please do the following.
Solution: To Connect to a Wireless Display on Windows 10 and 11 without shortcut keys
You can get to the "Connect to Wireless Display" settings through your laptop, following these directions, but please also contact the OIT HelpDesk at 865-974-9900 and ask a Desktop Support person to help you get the link to work. Occasionally this link can be disabled by security settings.
Step 1: Right click on your desktop and choose Display Settings.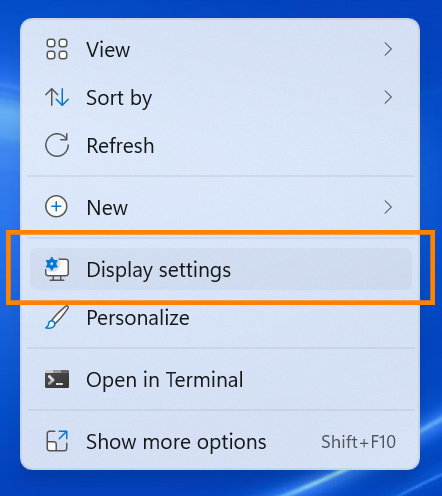 ---
Step 2: Under the Multiple displays setting (expand the option if using Windows 11), choose Connect to a wireless display.
---
Step 3: Select the Cynap you wish to connect to.
---
Step 4: Enter the Pin code that appears on the Cynap.
Helpful Links