Panopto is the university's lecture capture system. It is a cloud-based service that allows users to record, share, review, and edit video captures from their desktop, laptop, and mobile phones.
How to Use Panopto in the Classroom
See these instructions for Recording Your Lecture Using Panopto in the classroom.
Note: if you do not see the green create button when you log onto Panopto on the Cynap, you will need to enable creator access to Panopto in Canvas.
See these Audio and Troubleshooting tips.
Learn More About Panopto
Benefits to Using Panopto:
Panopto recordings have higher resolutions than Zoom, your viewers will see the difference.
Panopto allows you to store and edit videos for later use.
Panopto displays presentation slides and classroom camera in separate frames within the Panopto viewer
Zoom Cloud recordings are currently sent automatically over to the Panopto system for editing and storage.
Unlike Zoom, you do not need to schedule your meeting to record in advance when recording in the classroom. You can create an ad hoc recording using Panopto.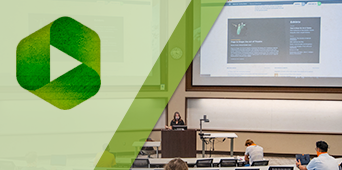 Additional Panopto Resources