Your Room Contains
1 Ceiling Projector(s)
Control Panel: Wall Style 3
1 Document Camera(s)
Getting Started With...
To turn on the wall screen, tap the On button under Display.
If you wish to connect your laptop, plug in with HDMI and choose Laptop.
Turn the dial to turn sound levels up and down in the room.
---
When Finished
Tap Off under Display.
---
For more information and basic troubleshooting, go to the Technology Training area.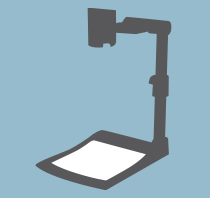 The document camera located in your classroom allows you to easily display documents, objects, and simple demonstrations to an entire classroom and/or lecture hall.
Key Features:
Zoom wheel, which allows for closer details of the images or objects being projected
Continuous auto-focus that adjusts as you zoom in and out to keep your image in clear focus
LCD preview
A brightly lit working surface
Loop-pull up for easy setup
Freeze frame, which freezes the image displayed through the projector system
How to Use the Document Camera:
Lift up the document camera with the loop-pull and the camera will automatically turn on.
Place your document or demonstration on the working surface
Ensure auto-focus is enabled to have a continuous clear presentation
Other Resources: